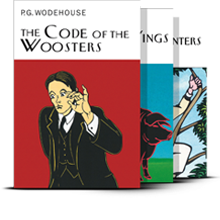 Perhaps it's finally time to venture outside for a lunchtime read? Grab a copy of Spring Fever, light-hearted and as funny as you'd expect from the undisputed master of comic writing, and head for the nearest green space! Get in the spirit of the season with this brilliant addition to the Everyman Wodehouse. When a man needs only two hundred pounds to marry his cook and buy a public house, one would expect his life to be trouble free, but the fifth Earl of Shortlands has to reckon with his haughty daughter, Lady Adela, and Mervyn Spink, his butler, who also happens to be his rival in love. His characters and settings have entered our language and our mythology.
Everyman Wodehouse, will contain all the novels and stories, newly edited and reset from the first British edition. Printed on cream-wove, acid-free paper, sewn and bound in cloth, each Everyman volume is already recognized as the finest edition of the master ever published. In these handsome volumes, with the pages that smell of real paper and those fine covers by Andrzej Klimowski, you find that the sparkle hasn't dimmed. They are a cause for regular celebration. THE BOLLINGER EVERYMAN WODEHOUSE PRIZE The Bollinger Everyman Wodehouse Prize is the UK's only literary award for comic writing. This link will add you to our database and inform you when new P G Wodehouse titles are available. Everyman's Library, 50 Albemarle Street, London, W1S 4BD.
Website Designed by Blade Design Ltd. In his award-winning fantasy trilogy, HIS DARK MATERIALS, Philip Pullman invents a richly detailed and marvellously imagined world that is complex and thought-provoking enough to enthral readers of all ages. Northern Lights introduces Lyra, an orphan, who lives in a parallel universe in which science, theology and magic are entwined. Lyra's search for a kidnapped friend uncovers a sinister plot involving stolen children and turns into a quest to understand a mysterious phenomenon called Dust. In The Subtle Knife she is joined on her journey by Will, a boy who possesses a knife that can cut windows between worlds. An utterly entrancing blend of metaphysical speculation and bravura storytelling, HIS DARK MATERIALS is a monumental and enduring achievement. The Bollinger Everyman Wodehouse Prize was launched in 2000, in honour of the great comic writer P G Wodehouse, to coincide with the launch of the new Wodehouse collection from Everyman's Library. Sponsored by Champagne Bollinger, the prize is the UK's only literary award for comic writing, celebrating the novels that have really made people laugh in the past year. The shortlist is announced in spring each year, with the winner announced ahead of the Hay Festival in late May, early June. The winner of the prize receives a case of Bollinger Special Cuvée, a jeroboam of Bollinger, a complete set of the Everyman Wodehouse and, in true Wodehouse tradition, a rare breed pig named after the winning novel.
David Campbell, Everyman's Library publisher and Peter Florence, Director of the Hay Festival. The 2016 prize was jointly awarded to Paul Murray's The Mark and the Void and Hannah Rothschild's The Improbability of Love. Along the Field as We Came By, by A. The Altars of Love's Sacred Grove, by Edna St. Down by the Salley Gardens, by W. The Face of Love, by Frank L. Il fiume d'amore, by Frank L. The Hands of the Betrothed, by D. You are Call'd to Cross the Sea!
Kisses in the Train, by D. Last Words to Miriam, by D. Lotus Hurt by the Cold, by D. Never Any Fear, by Elsie A. Never Give All the Heart, by W. Oh, When I Was in Love with You, by A. Who That Lookt Could Chance But Love? Passer Mortuus Est, by Edna St. A Poet To His Beloved, by W.
sir prize love is the